---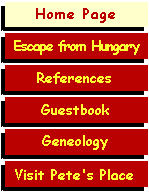 ---
| | | |
| --- | --- | --- |
| | | |
---
This web page commemorates the 50th anniversary of the 1956 Hungarian Revolution and my subsequent escape from Hungary -- the event that profoundly changed my life.
---

My name is Peter . . .
I was born in Budapest, Hungary in 1948, the year the Soviets established a Communist puppet regime in my homeland. Immediately after the Ocober 1956 revolution, at the age of eight, I escaped with my mother to start a new life in a free country. My story is similar to that of over 200 thousand other Hungarians who took advantage of the post-revolution turmoil and struck out for new opportunity.

---

I invite you relive the story of my escape in the following pages and gain a unique insight into the Hungarians' fight for freedom from the eyes of an eight-year old boy.

---